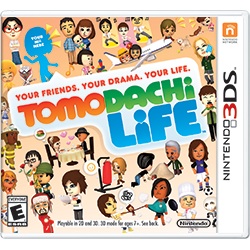 Tomodachi Life is a video game for the 3DS.
About
Your Mii characters run this island (which you get to name) and all live in an apartment building together. But, the thing is, you have to care for them. If they are hungry, feed them. If they want to play a game, play with them. If they want to talk, talk to them! The Miis also form relationships, and they can have best friends and even get married and have children.
Customization
The game allows you to customize your Miis even more than usual. You can give them a voice, a personality, a first and last name, and even cute clothes and hats.
Trivia
WatermelonSunshine and Cartoonlover18 really likes it.
Ad blocker interference detected!
Wikia is a free-to-use site that makes money from advertising. We have a modified experience for viewers using ad blockers

Wikia is not accessible if you've made further modifications. Remove the custom ad blocker rule(s) and the page will load as expected.